Rising Lords is a new type of game from Argonwood Studios. The game appears as a type of transition between boargame and digital game. In the game, which aims to grow the kingdoms by using the resources available to players on a turn based strategy, fight mechanics are also set up on a turn based strategy. Argonwood, a German-based indie game company, seems to have done a very good job as well. After the game was first announced in November 2019, it took its place in Steam as Early Access on May 27, 2020. While the game only offers Skirmish option in beta stage, it currently offers Online PvP, Online Co-op, LAN PvP and LAN Co-op options.
Board Game Comes to Digital Platform
When we were young, we all played games like Monopoly or Risk with our friends. Even a little more fortunate, we reached enough related friends and even played Dungeons & Dragons. But these games are now in the past. Today, these board games are no longer as popular because of the games that players play on computers and consoles. Rising Lords seems to make these old board games popular again. In the Medieval-themed game, players try to rule their kingdom at the beginning of each round with the cards from their deck. While the cities are enlarging and conquering new areas, they must also solve the administrative problems and ensure the welfare of the people. Besides, war mechanics also continue on a turn based strategy and using cards in the decks. This mechanism, which seems simple at the beginning, becomes a serious tactical challenge in the later parts of the game.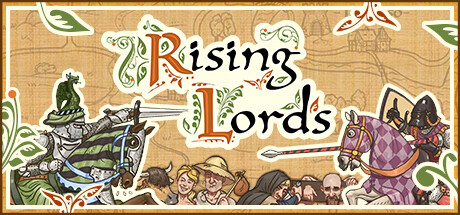 Are Turn Based Games Coming Back with Rising Lords?
Today, it is not possible to see turn based games in the digital game world. But recently, adult players who have grown up with this type of games have become more and more looking for these types of games. Rising Lords seems to replace the slow-paced and tour-based games like Darkest Dungeon. Slay the Spire also seems to be winking a bit with the cards coming from the deck by creating a deck. For those who like games in Roguelike style, they will spend long hours at the beginning. In addition, players can create the map they wish with the help of a map editor, or they can use maps created for players before. Although Rising Lords is a new game, it is a very promising game, it is good to give a chance.
Platforms: Windows, Linux and Mac are planned
Date of Release: Steam Early Access on May, 27th 2020
Socials and Links:
Twitter: http://twitter.com/argonwood
Discord Server: https://discord.gg/NAqnsFx
Steam community: https://steamcommunity.com/app/835650
Homepage: http://www.argonwood.com